'Humans had clogged arteries 3,000 years ago'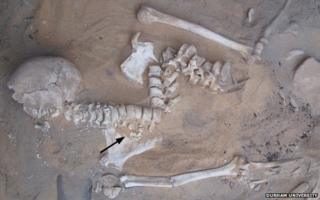 Clogged-up arteries have been affecting humans for at least 3,000 years, according to new research by experts from Durham University.
A team working in northern Sudan, Africa, have found five skeletons which show signs that may be related to a thickening of the arteries' walls.
The skeletons were found in underground chamber tombs.
The team said the discovery could help with the understanding of the evolution of heart disease.
Last month the same team announced it had found the oldest complete skeleton with metastatic cancer.
The latest skeletons - dating from between 1300 and 800BC - are of three females and two males who were all between 35 and 50 years old when they died.
The archaeological site of Amara West is situated on the River Nile, 750km north of the country's modern capital Khartoum.
'Plaguing world's population'
It is being excavated by a team from the British Museum with the work in the cemeteries led by Durham University PhD student Michaela Binder.
She said: "Very little is known about atherosclerosis in past human populations because it is very difficult to find evidence in skeletal human remains.
"Calcified arterial plaques in these 3,000-year-old skeletons show that atherosclerosis is not only a problem of modern lifestyle but may also be related to inflammation, genetic background and ageing in general.
"Insights gained from archaeological remains like these can really help us to understand the evolution and history of modern diseases."
The study is published in the International Journal of Palaeopathology.