Scientology Gateshead building still empty after seven years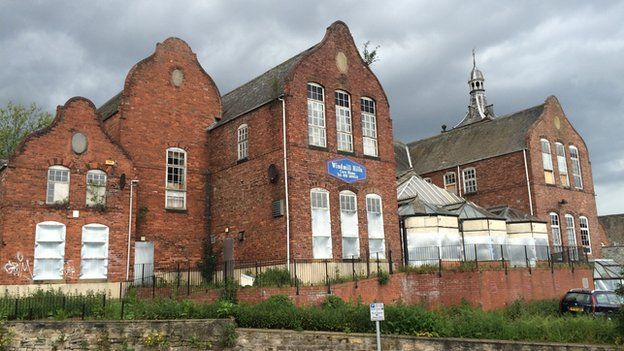 The Church of Scientology, famous for its Hollywood celebrity followers, once hailed its new home in north-east England as a centre for spiritual enlightenment. Several years on, the building lies empty and is a haven for squatters and drug users. So will it ever open?
The Windmill Hills former school and care home in Gateshead looks like the ideal setting for a ghost story.
Damp and derelict, the spooky Victorian day school sits at the mercy of vandals, squatters and the elements.
However, the Church of Scientology, which boasts among its followers Tom Cruise and John Travolta, paints a different picture on one of its web pages.
Beside a sparkling image of the Grade II listed building, the text says the church's new branch will be based in the building and aim to make northern England "strong, prosperous and enlightened". The date at the bottom reads 2009.
Keith Shevill sees the reality. He runs the Black Bull pub, which sits just in front of the former care home.
"I remember this years ago and it was actually a really nice old people's home," he said. "My uncle was actually in here and it was kept really, really nice."
But that is a distant memory as he looks across the car park strewn with old sofas, rubbish and used needles.
"There's always squatters, drug addicts, that sort of thing in there," he said.
"It's the whole area it obviously affects, because people know the building was a lovely old building and for somewhere just to go downhill like that, it's just a real shame."
At the last census there were 2,418 Scientologists in England and Wales
That is slightly more than the number of Satanists, but many fewer than the number of people claiming to be Jedi Knights
There were over 33 million Christians, 2.7 million Muslims and nearly 14 million people of no religion
The census found there were just 62 Scientologists in the North East, where Satanists outnumbered them
In the same region there were 1.75 million Christians and about 600,000 people of no religion
There were about 25,000 Scientologists in the US in 2008 according to the American Religious Identification Survey (ARIS)
That represents more than a 50% decline since 2001, when there were 55,000, according to the survey
The church still insists renovations will take place "in the near future", seven years since one of its followers first bought it.
But not everyone wants a new Scientology branch to open.
Roland Rashleigh-Berry, a former Scientologist, said his treatment by the church "motivated me to want to close them down and harass them in any way I legally could to stop their (branch) opening in Gateshead or anywhere I could have an effect."
He claimed the church subjected him to a controversial method for dealing with people experiencing mental breakdown, in which they are physically isolated. The church did not comment on his claim.
He and others wrote to the council expressing concerns about the Gateshead building.
Founded in the 1950s by US science fiction writer L Ron Hubbard, Scientology offers believers a life improvement strategy it calls dianetics.
People take courses of dianetics counselling, known as auditing, in the hope of ridding themselves of destructive influences from their current or past lives.
Scientologists say it is a religion, but a string of defectors have accused it of being a dangerous cult. They allege physical and emotional abuse, brainwashing and unethical fundraising, which the church has always strongly denied.
Former Scientologist speaks out
Pete Griffiths joined the Church of Scientology in Sunderland in 1987.
He said: "They convinced me they had answers and I bought it. It cost me the next month's mortgage payment to do the course they were advising."
Mr Griffiths and his then wife soon became church staff. "I was promised £200 a week, but most weeks we'd be given £4, £2, £1," he said.
He claimed they had to sell their house and car to make ends meet. Mr Griffiths said he eventually left the Sunderland org (short for organisation) after it sacked his wife.
"She'd been a psychiatric nurse and Scientology's big enemy is psychiatry," he said. "She was told she could join staff again when psychiatry was destroyed."
Mr Griffiths went on to set up a mission in Kendal, Cumbria, and later Grange, but gave up after four years. He continued to believe Scientology was a force for good until 2008, when he started reading criticism of the religion online.
Mr Griffiths said his brother is a Scientologist and no longer speaks to him because he is a critic. He said: "It's absolutely diabolical. I've lost a brother. I pray that one day he'll come back."
The church offered no comment on any of these specific claims, but described the former Scientologists who spoke to the BBC as "people who want to create hatred towards Scientologists".
The building in Gateshead is part of an international programme of property expansion, which the church's UK spokesman Graeme Wilson said was "to cater for increased interest in Scientology".
He said 47 such buildings had opened worldwide in the past 10 years.
Local Scientology branches are called "orgs" - which is short for organisation. There are nine in the UK, in various places from Edinburgh to Plymouth.
The buildings the church has opened over the past decade are called "ideal orgs" and carry a higher status.
The Windmill Hills building was bought for £1.5m in 2007 by Richard Pickles, who the church described as "one of our parishioners".
He is listed as a director of a dormant company called ATD CCTV Ltd and was formerly a director of a company in East Grinstead in West Sussex, where the Church of Scientology has a large UK base.
The BBC tried to contact him via letter but he did not reply.
Shortly after the purchase, Mr Pickles successfully applied to Gateshead Council for planning permission to make it a place of religious worship.
The building was transferred to the church in 2009 but remains unused. The church has refused to give a renovation timescale or explain how much this would cost.
"The buildings we are opening are of high quality and perfectly renovated," said Mr Wilson. "To achieve this standard requires a lot of planning, time and funds. But we are making excellent progress."
Not everyone is convinced. The building - on the edge of a park in central Gateshead - is regarded by many as a prominent eyesore.
"We have repeatedly pressed the owners to make repairs and clarify the long-term future of the site," said Gateshead Council's head of development and public protections, Anneliese Hutchinson.
"We are clear that further works are required in the short term to improve the condition of the building."
She said the council was "exploring the options available" to reach a solution. Councils can require owners to carry out repairs to listed buildings, or undertake works themselves and bill the owner.
They also have the power to make a compulsory purchase, but only if they have a plan to secure the building's long-term future.
Windmill Hills is not an isolated example.
The listed former Duckworth's essence distillery in Manchester was supposed to become an ideal org, but the church failed to get planning permission to use it for religious worship.
Meanwhile every day no work is done, the Windmill Hills care home's condition gets worse and the cost of renovating it gets higher.
Related Internet Links
The BBC is not responsible for the content of external sites.