Cup and ring stone damage classed as heritage crime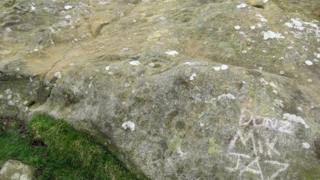 An ancient monument in Northumberland has been damaged in what police have classed as a heritage crime.
The stone at Lordenshaw, near Rothbury, which features cup and ring carvings dating back about 5,000 years, has had words scratched on it.
Northumbria Police described the damage as "completely unacceptable".
The force is working with English Heritage and Northumberland National Park to track down those responsible and has appealed for information.
A spokesman said: "The person or people who have done this might think it was nothing more than a bit of fun, however, they've spoilt an ancient monument that many people come to visit."