Durham Cathedral excavation unearths 21,000 animal bones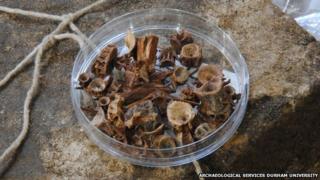 More than 20,000 animal bones have been unearthed during an excavation at Durham Cathedral.
The bones of fish and birds were among a "massive amount" of food waste found in the area of the cathedral's 14th Century kitchen.
Archaeologist Norman Emery said they gave a "unique insight" into the diet of monks who lived at the cathedral.
The dig was part of a project to transform the room into an exhibition space for the relics of St Cuthbert.
Mr Emery, the cathedral's resident archaeologist, said: "All the animal bones, birds, fish, they are really well preserved, all the way down to the scales off the fish.
"You can see the butchers marks and even how they were cooked and processed - you can tell what angle the knife was at and at how many degrees, it's like forensic science."
The Open Treasure project has seen the excavation of a major area on the ground floor of the cathedral from the cloister into the great kitchen, believed to be one of only two intact surviving monastic kitchens in England.
The Durham University team dug a 1m sq test pit before the full excavation and found 21,000 discarded animal bones.
From identifying the samples, they were able to pin the bones down to each species, including deep sea fish such as turbot and sole, to some freshwater fish probably from the River Wear like salmon and trout.
"[The monks] ate just about everything," Mr Emery said.
"There's records of them eating domestic and wild birds from surrounding estuaries, to migratory birds and birds from the coast including puffins from the Farnes on rare occasions."