Newcastle Council concerned at city centre road accidents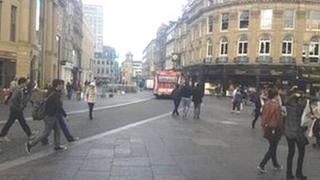 Safety awareness is key to tackling the recent high number of city centre road accidents, Newcastle City Council has said.
Nineteen accidents involving pedestrians and buses have taken place in Newcastle city centre in the last two years.
The council is looking at new lighting and road markings to address the issue.
But Labour council leader Nick Forbes said a public safety campaign was particularly important.
Mr Forbes said: "One of the things the bus companies were telling me was that the number of people involved in accidents, who were wearing headphones, or listening to music, or texting was quite remarkable.
"It's really important that people do take care and pay attention to their surroundings."
Hit by bus
The main areas of concern are around Newgate Street, Bigg Market, Blackett Street, Grainger Street, Market Street and Pilgrim Street.
One pedestrian, who did not want to be named, described being hit by a bus in the city centre.
She said: "I flew 30ft from the point of contact. I smashed the windscreen so I had six staples in my head, but then when I hit the ground I fractured my skull.
"For that day and two weeks afterwards I have no memory. I was in intensive care for three days and in a coma."
Alan Kennedy, from the charity Road Safety GB, said statistically pedestrians failing to look was the main factor in them being hit by vehicles.
"We certainly need many more publicity campaigns to raise awareness and get everyone who uses the roads to take more responsibility," he said.