'Tony the Fridge' fails in four-marathon charity bid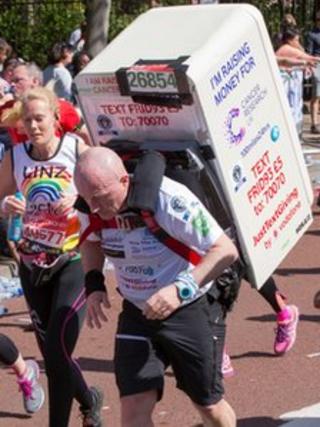 A charity runner has failed in his bid to run the London marathon four times in 24 hours with a six-and-a-half stone (42kg) fridge on his back.
Tony Phoenix-Morrison, from Hebburn, South Tyneside, completed the second of the four 26.1m (42km) marathons but has been forced to abandon his mission.
Known as "Tony the Fridge," he is suffering from sunstroke and was described by one of his support staff as "safe but really sick".
He was running for Cancer Research UK.
His previous challenges include completing the Great North Run half-marathon route every day for 30 consecutive days in August and September 2012.
Mr Morrison also claims to have run the furthest distance in 24 hours while carrying a fridge - 67.1 miles (107.9km) - which he did non-stop around the quayside in Newcastle in April 2013.
His efforts have raised thousands of pounds for charity.