County Durham 'mystery' mineral discovered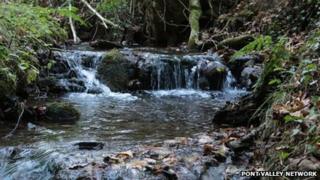 A "mystery" mineral has been discovered in woods in County Durham.
The rare rock-like formation, believed to be fresh water tufa, was found by a local ecologist in Pont Burn, Dipton.
Usually present in limestone areas, the mineral is only known in "very few" locations in the North East, making it an "unusual" find.
Now community group the Pont Valley Network has taken samples of the mineral to be tested by a national expert on tufa.
Chairman of the group David Marrs said if the find is confirmed to be tufa, the group will "urge" Natural England to designate the area as a Site of Special Scientific Interest (SSSI).
He said: "If we can have this area designated as an SSSI, that can only help us in our environmental work in the valley, which is basically to protect and preserve what is there."