Newcastle City Council cuts: Who's to blame?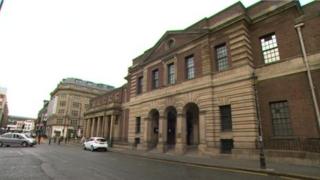 Dennis 'O' Donnell is standing outside a building in Newcastle - but he used to spend hours inside it.
Newcastle's City Pool was where he swam and met friends. But it has now closed due to council budget cuts.
"The facility was absolutely brilliant - the community used to come but the council decided that it wasn't viable and that it was going to close... they had other options, they didn't listen to us," said resident Mr 'O' Donnell.
All told, Newcastle City Council's government grants have been cut by more than £89m since 2010.
But the Labour-run council has had to make decisions on what services to cut including closing the pool and axing the arts budget.
There have been some noisy protests against cuts in the city over the last few years and they haven't all been aimed at the coalition government - Labour have taken flack too.
So as voters go to the polls at local elections in the city on 22 May, they may be pondering who to blame - ministers hundreds of miles away in Whitehall, or the council on their doorstep.
'Shifting the blame'
Local Liberal Democrats accept the council's had a tough funding deal from central government but say Labour's made the wrong cuts in the wrong places.
Councillor David Faulkner said: "In this city the council's got a capital budget of £450m over three years and a fraction of that, £3m, would have done up the pool - so it's an example of a cut that was a wrong cut."
But Labour totally reject that. Council leader Nick Forbes is keen to stress the positives in the city of new investment and job creation, but says voters should lay the blame for cuts at the government's door.
"Newcastle's faced disproportionately big cuts from central government - we should have had £38m more than we have had because of the ideology of the Tories and Lib Dems - it's obviously part of their strategy to shift the blame for government cuts onto local councils who have to often front them up to local residents."
But while Labour blame David Cameron for the cuts the PM's party hasn't had a single councillor in Newcastle since 1996.
Local activist and businessman Jeremy Middleton will not commit to how long it'll take to get one back but says the Tories are still relevant here.
"There are lots of Conservatives - people who vote Conservative, people in public life in this city.
"The most important thing is to protect front-line services. The key question is what is the potential for significantly larger savings to be made from the way that councils are run?" Mr Middleton said.
But UKIP say they'll give all the main parties a run for their money at these elections.
While the party has yet to make a breakthrough in local government, Paul Armstrong from the party in Newcastle says they'll give council tax payers better value for money.
He said: "We do have people with sensible business backgrounds that know how to run large organisations effectively.
"The council here should be focussing on their front-line services and maintaining them by reducing back room services."
So as the argument over who is to blame for the loss in council services continues the voters could well be deciding who to punish.