Janet Brown murder case: Accused man 'frightened' wife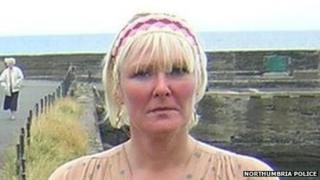 The wife of a man accused of murdering his wealthy lover has told a jury she was frightened of him.
Donald Graham is accused of killing Janet Brown, of Hexham, Northumberland, in 2005, concealing her body and then stripping her and her parents' estates.
He admits fraud but denies murder and perverting the course of justice.
Mr Graham's wife, Denise, told Newcastle Crown Court that her husband became "nasty" towards her after starting his affair with Miss Brown.
In 2010, Mr Graham forced his wife to phone a solicitor and pretend she was Miss Brown as part of a scam to inherit her late parents' estate, the jury was told.
By this time, the prosecution claims, Graham, 59, from Sparty Lea, Northumberland, had already murdered his 45-year-old girlfriend and emptied her bank accounts and those of her parents.
The body of the property developer and TV extra has never been found.
'Never ask'
His co-accused Elizabeth Todd, 51, from Seaton Delaval, Northumberland, another woman with whom he was having an affair, denies fraud and perverting the course of justice.
Robert Smith QC, prosecuting, asked if Mr Graham's attitude towards his wife changed once the affair with Miss Brown began.
"Yes, he became really nasty towards me," Mrs Graham said.
Without her knowledge, her husband bought a house in Seaton Delaval and allowed Ms Todd to live there, and she told the jury she only found out later after checking with the Land Registry.
Mrs Graham was asked if she ever questioned her husband about what he was doing when she spotted his car parked at Miss Brown's parents' house near Hexham.
She replied: "No. I was frightened by him.
"I was told by him never to ask where he had been or what he had been doing."
The trial was adjourned.