Sphagnum moss theft risk to endangered butterflies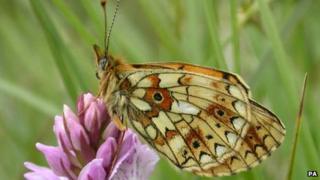 Endangered butterflies in County Durham have been put at risk by the theft of a large amount of the moss which forms part of their natural habitat.
More than 50 bags of rare sphagnum moss was taken from Burnhill Nature Reserve.
Small Pearl-bordered Fritillary butterfly caterpillars feed on the marsh violet that grows amongst it.
A spokesman for the Durham Wildlife Trust said the moss would probably be sold for use in hanging baskets and urged people buying any to be vigilant.
Dave Liddle said: "We won't know how badly it is going to affect the butterfly numbers until they start to appear, but in the last 50 years the species has declined by 93%.
"You get used to knock backs but this is a particularly distressing one as its happened in the life cycle of the butterfly, a lot of people have put a lot of work into the project."
Durham Constabulary said the theft was not something the force had ever come across before.