Barbour: From farmers and fishermen to fashion royalty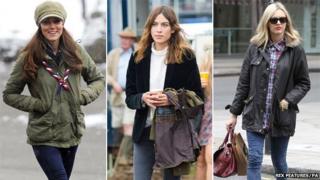 Celebrating its 120th year, Barbour's clothes have seemingly never been more fashionable. But just how did a company whose brand was aimed at farmers, fishermen and the 'country set' become such a success story?
"Whenever I see anybody of celebrity status in one of our jackets it's a buzz," says Helen Barbour, sat, cuppa in hand, in the rather grandly named Brand Room of the firm's South Shields headquarters.
Framed pictures detailing key points from the company's past cover the walls, while gleaming glass cabinets showcase some of its familiar coats.
Then there is the huge dark wood table that appears to stretch into the distance.
At the far end, hidden behind painted wooden shutters, lies the archive - a treasure trove of jackets and catalogues from years gone by which today's designers can raid for inspiration.
It is a welcoming space, but one that leaves you in no doubt as to the firm's desire to capitalise on its heritage and prestige.
A long-time House of Windsor favourite (it has held Royal Warrants for decades), these days you are just as likely to see one of Barbour's waxed offerings adorning celebrity royalty such as Alexa Chung.
The transformation has been striking.
Helen's mum, Margaret (now a Dame), took the helm in the late 1960s following the death of her husband, John Barbour, from a brain haemorrhage aged just 29.
"When she took over she worked in every single department," Helen says.
"I used to come into the business a lot on school holidays because she would be working full-time.
"I used to deliver the post around the factory, played with the big dress-making scissors and served tea in the canteen.
"It was just a family business when I was growing up. It was nothing like it is now."
So just how did a clothing company which put functionality over fashion become such a favourite with famous faces and high street shoppers?
For Helen, its beginnings can be traced back to the 1980s, Lady Diana Spencer and the emergence of the 'Sloane Rangers' - stereotypically young, wealthy, upper-class women who wore tweed and wax jackets.
"Lady Diana had just met Prince Charles," the 47-year-old mum-of-three recalls.
"She was starting to be noticed and was being called a Sloane Ranger.
"I was in Sixth Form at the time in Oxford - it was full of them and they all wore Barbour.
"Sales went up and the business started to make some money."
But while that decade saw the brand's popularity grow among a particular demographic, widespread crossover success was to come much later.
Shelly Vella, fashion and style director with Cosmopolitan, says it stems from being put centre-stage at a mud-soaked Glastonbury in 2007 by singer Lily Allen.
"Throwing a Barbour over a party dress at a festival was how it started - they're waterproof and you need that at Glastonbury.
"Lily would have been very important in influencing a lot of young women as she was massive at that time, and then you had Alexa Chung wearing one too.
"Barbour had been seen as a bit posh, but it created a slew of copies on the high street from places like Top Shop."
Since then, the list of famous faces pictured in Barbour has grown and grown with Ellie Goulding, Little Mix's Perrie Edwards and Arctic Monkeys' Alex Turner among other musicians donning them.
And it has not just proved a smash-hit with pop stars.
TV's Holly Willoughby and Billie Piper have also been papped in the firm's familiar green hues.
Further column inches - and sales - come your way when the Duchess of Cambridge is pictured in your attire.
Even suave superspy James Bond has got in on the action.
As 2012 blockbuster Skyfall saw the action move north to 007's ancestral home in the wilds of Scotland, star Daniel Craig swaggered around in one of Barbour's £399 Beacon Sports jackets.
It proved popular as movie-goers tried to snap up a little of the hero's rugged charm.
"The wardrobe department bought 25 off us for the shoot, then demand just exploded," says Helen, the firm's vice-chairman.
"Fashion bloggers started talking about it and people were ringing up and getting in touch on Facebook to ask how they could get one.
"Then they started going on eBay," she adds with a rueful smile.
The attention, it seems, was a surprise.
"My mum and I never intended Barbour to be a fashion brand," Helen says.
"The expectations on you are so much bigger. You've got to produce new collections every season and keep up with what's on-trend.
"Fifteen years ago we didn't have a design department - my mum and the managing director would design the new jackets we made.
"But when it happens you would be foolish not to embrace it."
For Cosmo's Shelly, the company has been "clever" in the way it has capitalised on its opportunity.
"They were lucky in that celebrities made these functional items fashionable and then they brought in designers such as Alice Temperley," she says.
"It's a practical garment that's had a makeover, like Hunter wellies."
Heritage goes hip
Makers of Harris Tweed were said to be overwhelmed by the level of interest when Matt Smith began wearing a traditional Hebridean hand-woven jacket in BBC TV show Doctor Who
The cool cache of Hunter wellies soared when Kate Moss rocked up at a rain-soaked Glastonbury in hot-pants and waded through the mud in her green designer boots
Madonna, Nicole Kidman and Scarlett Johansson have worn sweaters by Pringle of Scotland, but times are tough for the now Chinese-owned company which has reported significant losses
Knitwear firm John Smedley has been producing garments in Derbyshire for more than 225 years and its sweaters, tops and cardigans are still popular today
After distancing itself from Z-listers, Burberry this year reported record profits with sales strong in China and Japan
Heritage - and the perception of quality achieved through years of sweat and toil - is certainly big business at home and abroad.
Amber Jane Butchart, author and associate lecturer in cultural and historical studies at London College of Fashion, believes much of the lure comes from "provenance".
"It's huge in the food arena and is becoming more and more important in fashion - knowing the origin of your clothes.
"Many, like Harris Tweed for example, are still produced locally.
"That has great appeal, combined with the story and history of the brand, and events like the Rana Plaza disaster are making people question 'fast fashion'.
"You are getting a product you can trust.
"That's something British brands have been able to export all over the world. Japan, particularly, has a big interest in heritage brands."
While Barbour's sales have flourished, it has managed to dodge the fate which befell Burberry, whose luxury image was badly damaged a decade ago when so-called 'chavs' flocked to adopt its trademark camel-coloured check - or, worse still, cheap imitations.
"It's always been in the back of our mind," Helen admits. "But what can you do?
"We can't stop people from buying them. You just hope for the best."
It is a far cry from Barbour's beginnings overlooking South Shields' Market Place in 1894 when the firm supplied oilskins and other garments to fishermen, sailors and dockers to protect them from the ferocities of the North Sea.
A major employer in the South Tyneside area, the factory has been at its current site - round the corner from the firm's HQ - since the early 1980s and now has a team of about 180 people.
In total, 3,000 waxed jackets are made every week (equivalent to 25 per machinist).
While those items are only made in South Shields, others in the company's ranges are manufactured across the globe.
Recent years have seen a foray into accessories, such as eyewear, scarves and caps - even quilted dog coats.
"It's about putting a bit of fun into things," says Helen, who has her Barbour-covered mobile phone resting on the corner of the table next to her Barbour tartan-branded mug.
The firm's intention now, she adds, is to become "the best British heritage brand by 2020".
And so, it seems, the firm's jackets will remain ubiquitous on high streets up and down the land.
"They're like Land Rovers," says Shelly.
"You used to only see them in the countryside, but now 'Chelsea tractors' are everywhere and you don't think twice about it.
"It's the same with Barbour jackets."