Stanley bus driver Paul Stephenson warned children of crash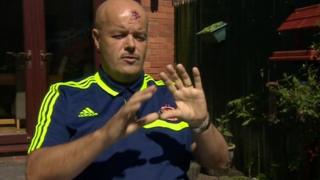 A County Durham bus driver involved in a head-on smash that injured 28 children has told how he managed to shout a warning he was about to crash.
Paul Stephenson, 54, suffered leg and head wounds when his double decker collided with a single decker bus.
He said he thought he was going to die when the other bus went through the windscreen and halted six inches from his face.
A 12-year-old boy is still in hospital following Tuesday's crash in Stanley.
'Thought I was dead'
Thirteen ambulances were sent to the crash scene at the junction of Shield Row Lane and the A693.
The pupils, aged 11 to 18, were from St Bede's Catholic School, Lanchester and Tanfield School.
Mr Stephenson, of Annfield Plain, who has worked for bus company Go North East for more than 15 years, was treated at Newcastle's Royal Victoria Infirmary and released on Thursday.
He needed stitches in his head and had to have metal removed from his leg. It took firefighters two hours to cut him free from the wreckage.
'Lovely kids'
He said: "I shouted out to the kids, 'we are going to hit somebody, brace yourselves', then the bus was coming through the screen, everything shattered, there was dust all over.
"I was trapped leaning back in the cab, there was nowhere to go. I was thinking, 'this is it', then it stopped six inches from my face.
"All the kids rushed to the front but I told them to go to the back and get off as quickly and safely as possible.
"I was covered in blood there was blood running down my face. One young lassie came up to me and starting screaming - I think she thought I was dead.
"They are all lovely kids they have sent me flowers and cards."
The 27-year-old driver of the other vehicle is still in hospital.