Bus crash pupils from Lanchester pledge aid to charity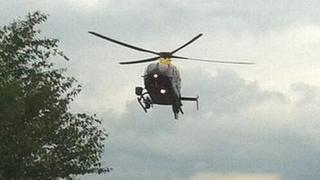 Children on board a bus involved in a head-on crash which left 30 people injured have pledged to raise money for the air ambulance which helped them.
Many children were injured - one 12-year-old boy seriously - in the smash on 3 June on Shield Rowe Lane, Stanley.
Now St Bede's Catholic School in Lanchester has decided to fundraise for the Great North Air Ambulance (GNAAS) which flew the hurt boy to hospital.
Head teacher Neville Harrison said the charity did "fantastic" work.
Fifty children were on the single and double-decker buses when they collided. They were aged between 11 and 18 and from St Bede's and Tanfield schools.
'Difficult rescue'
Mr Harrison said: "We are so grateful for the excellent care shown by the crew of the air ambulance during last week's traumatic event.
"To show our appreciation and gratitude, we have named the GNAAS as one of our adopted charities."
Double-decker driver Paul Stephenson, 54, suffered leg and head wounds. The other driver, aged 27, was also hurt, but not as badly.
Head fundraiser for the GNAAS Mandy Drake said it cost £4m a year to keep the ambulance in the air.
"This was a difficult rescue and very traumatic for those involved. We are just thankful the outcome wasn't even worse.
"We are incredibly grateful to the school."