Seaton Delaval Hall restoration halted as jackdaw nests found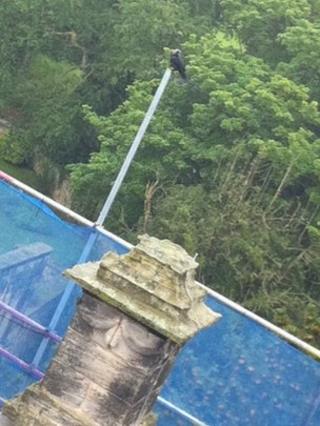 Restoration work at a historic hall in Northumberland that was burned down when a jackdaw nest caught fire has been halted after their descendants returned to the same roost.
Seaton Delaval Hall's central block has remained a crumbling shell since a fire from a bird's nest broke out in 1822.
Last year, its owners were awarded £500,000 for the revamp.
But work on the main chimney stacks has been stopped after about 30 jackdaw chicks were found nesting inside.
House and collections manager, Julie Hawthorn, said: "The building work has been going very well and it's slightly ironic that the same birds that are alleged to have caused the fire all those years ago are still here today.
"Work will be halted on the chimneys for a couple of weeks until the fledglings leave the nests.
"At least it's not a case of history repeating itself as we currently don't have fires in the chimneys below."
Work already completed on the hall includes the restoration of the original 18th Century chequerboard floor along with much of the original limestone and marble work.
The Grade I-listed building was bought by the National Trust following a public appeal in 2008.
The £496,000 from the SITA Heritage Trust is being used to to stabilise the building, restore the floor and preserve six life-size statues.