Third osprey nest spotted at Kielder Water and Forest Park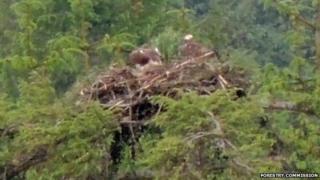 Staff at wildlife park are celebrating after spotting a third osprey nest with chicks.
The birds were lured back to Kielder Water and Forest Park in Northumberland in 2009 after an absence of more than 170 years, but this is the first year there have been three breeding pairs.
The other two well-established nests have six healthy chicks between them.
The Forestry Commission, which manages the site, has installed a webcam so the public can view the birds' progress.
Tom Dearnley, Forestry Commission ecologist, said: "Everything seemed to be progressing towards successful breeding [for the third pair] in 2013, but for unknown reasons no eggs were laid.
"This is not unusual for young, inexperienced osprey pairs.
"This year, mating was observed during April and the female was seen incubating thereafter. By mid-June it was confirmed that there was at least one chick on the nest."