Anne Lakey trial: Sex-accused was 'visionary leader'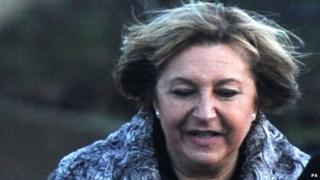 A teacher accused of sex offences against a 13-year-old boy was a "visionary leader", a court has heard.
Anne Lakey, now an acclaimed head teacher, is alleged to have had an affair with the boy, who was not one of her pupils, in the late 1980s.
The 54-year-old, from Stanley, County Durham denies charges of indecency and indecent assault against a child.
Durham Crown Court was told that Ms Lakey was instrumental in turning around a failing school.
The trial had previously heard that the boy was one of a group of teenagers who used to visit her house while she taught at a Sunderland comprehensive.
'Well respected'
She flirted with him, let him watch her bathe and later seduced him, the court was told.
Paul McHugh, a national educational leadership consultant, said he had met Ms Lakey in 2006, when she had recently taken over Fyndoune Community College in Sacriston.
He said: "The school went from failing for three years to being one of the most improved in the country.
"I put that down to the drive of Mrs Lakey and the senior team.
"She was described in a DfE [Department for Education] pamphlet as a visionary leader and that is certainly the way I see it."
He added that she was very well respected by people in the community, local councillors and other school heads.
The trial continues.