Anne Lakey sex assault trial: No verdict on accused teacher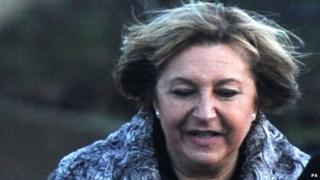 A jury has failed to reach a verdict in the case of a teacher accused of sex offences against a 13-year-old boy.
Anne Lakey, now the head of a group of schools, was said to have had an affair with the boy, who was not one of her pupils, in the late 1980s.
The 54-year-old teacher of Stanley, County Durham, denied six charges of indecent assault against a child.
After deliberating since Tuesday, the jury at Durham Crown Court could not agree on a verdict and was discharged.
Prosecutor Caroline Goodwin said: "It is likely there will be a retrial.
"I'm not going to make that decision today."
Ms Lakey will return to the court on 11 July when the decision by the Crown Prosecution Service is announced.
During the trial the court was told that Ms Lakey "groomed" the boy and "exploited him for sex".
She denied that any abuse had taken place, and said she was shocked by the accusations.
Ms Lakey is currently suspended from her post as chief executive of the Durham Federation of Schools, which includes Durham Community Business College in Ushaw Moor and Fyndoune Community College in Sacriston.