Virtual reality 'helps those with autism overcome phobias'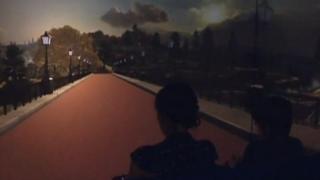 Harnessing virtual reality can help people with autism overcome phobias, researchers say.
Scenarios including getting on a busy bus, crossing a high bridge and talking to a shop assistant, were used in a study by Newcastle University scientists.
Following relaxation techniques and work with a psychologist, the child was gradually introduced to the situation.
The team is now working on plans to see the treatment used in the NHS.
Their work focused on nine boys aged seven to 13, all of whom have autism.
'Anxious and nervous'
At its completion, eight were able to tackle the situation they had earlier feared with four found to have totally overcome their phobia.
One of the children had a fear of heights.
His mum, Claire Parker, said: "He would be very anxious and nervous. He wouldn't be happy going across a bridge at all, so we would have to go a different route.
"He's not got an issue now."
'Managing fears'
Dr Jeremy Parr, of the university's Institute of Neuroscience, said: "Currently the main treatment is cognitive behaviour therapy, but that often doesn't work for a child with autism as it relies on imagination.
"People with autism can find imagination difficult, so by providing the scene in front of the child's eyes we help them learn how to manage their fears."
The suite at the Blue Room in Gateshead was designed by North East firm Third Eye.
Carol Povey, director of The National Autistic Society's Centre for Autism, said: "A chance to explore stressful scenarios in a safe, virtual environment could help those whose lives are dominated by anxiety to better manage their fears, improving their quality of life."
The study features in the journal PLOS ONE.
Around 150,000 youngsters in the UK are thought to have autism.