Duke of Northumberland sells art to pay flood repair bill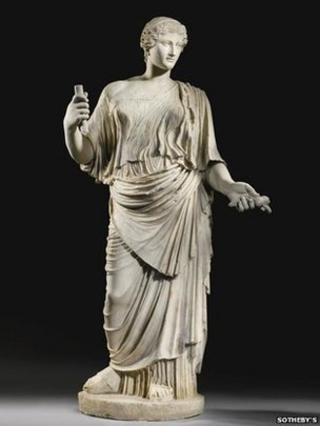 Works of art belonging to the Duke of Northumberland have been sold for more than £32m after his estate was left with a massive bill for flood damage.
The sale of about 80 lots was prompted by floods at Newburn, Newcastle, in 2012, where a culvert collapsed and led to buildings being demolished.
The Sotheby's sale in London attracted buyers from all over the world.
The highest price of £9.4m was paid for a 1st Century Roman marble statue of Aphrodite - the Greek goddess of love.
The works on sale included sculptures, ceramics, paintings and furniture.
They were amassed by the duke's ancestors over centuries had featured in his homes of Alnwick Castle in Northumberland and Syon House in west London.
Initial estimates suggested the sale would net the duke about £15m, but interest from buyers in Russia and Asia helped to more than double that.
A 17th Century oil painting by Belgian artist Jan Brueghel the Elder entitled the Garden of Eden had been estimated to fetch up to £3m, but actually sold for £6.8m.
Similarly, a painting of a Mohawk chief, who served with an ancestor of the current duke in the American revolutionary war, was sold for £4.1m - double its original estimate.
A series of paintings by Giovanni da Rimini dating from the early 14th Century sold for £5.7m, while an enamel tower clock from 1790 went for £2.6m and a mahogany and marble commode dating from 1740 was sold for £1.5m - all above their estimates.
The duke said the sales were prompted by "momentous" floods, which resulted in a repair bill of about £12m.
He said: "The costs involved in repairing the damaged culvert in Newburn have now been settled, but largely from funds that were destined for maintenance of our historic buildings and projects intended to safeguard the future of the estates."
He added that the sales were needed to "replenish" the maintenance fund.
A spokesman for Sotheby's hailed the items up for auction as "some of the finest examples of their type in the world."
Families were forced to move out of their home in Newburn after heavy rain caused flooding in September 2012.
A block of six flats were subsequently demolished.