Arbeia Roman Fort: Tyneside's treasures on display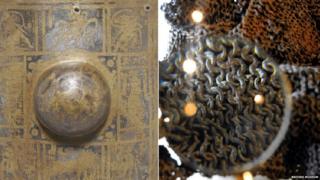 A collection of rare Roman finds, many normally only displayed at the British Museum, are to go on show close to where they were unearthed on Tyneside.
Arbeia Roman Fort and Museum in South Shields is hosting an exhibition of items showing what life was life on "the edge of the Roman Empire".
One of the highlights of the collection is a shield boss, used to protect legionaries' hands during battle.
The artefact, dating back to the early second century AD, was discovered near the mouth of the River Tyne in 1866 and is thought to have belonged to a legionary soldier called Junius Dubiatus.
It is considered to be one of the finest of the few shield bosses which have survived.
Other exhibits, such as the Regina and Victor tombstones, demonstrate the cosmopolitan nature of South Tyneside in Roman times, according to the museum.
One commemorates a woman from the South East married to a Syrian, and the other, a North African freed slave of a soldier from Spain.
Also on display is what is thought to be the most complete and well preserved Romano-British ring mail suit in the UK.
There is also a very rare example of a Roman sword with a double herringbone pattern built into the blade.
Museum manager Geoff Woodward said: "Every single item highlights what life was like living on the edge of the Roman Empire and shows the wonderful craftsmanship of the era in all its glory."
Arbeia, built about 160 BC, originally housed a Roman garrison guarding the entrance to the River Tyne and was the military base for the 17 other forts along the length of Hadrian's Wall.
It was also used for supplies, and contains the only permanent Roman stone-built granaries as yet discovered in the UK.
Archaeologists are continuing to excavate much of the site, which was covered over with housing until it was discovered in the 1870s.
The Glory of Rome exhibition runs from 19 July until 1 November, and admission is free.