Malaysia Airline crash: Newcastle fans on passenger list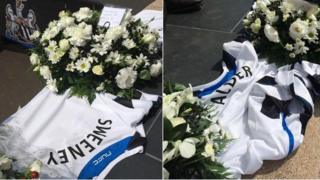 Two Newcastle United fans going to the club's pre-season tour were on a flight that crashed in Ukraine.
John Alder and Liam Sweeney, 28, were on the passenger list for flight MH17, Malaysia Airlines confirmed.
The Boeing 777 from Amsterdam to Kuala Lumpur crashed on Thursday with 298 people on board.
Newcastle United and manager Alan Pardew have paid tribute to the fans. The names of other British people on the flight are starting to emerge.
They include Ben Pocock, from Bristol, who was studying at Loughborough University, and Richard Mayne, a Leeds University student from Leicestershire.
Flight MH17 came down 50km from the Russia-Ukraine border.
The two fans were travelling to New Zealand to see their team play.
Liam Sweeney's father, Barry, described his son as a "tremendous bloke".
He said: "Football was his life, it was all he talked about.
"I'd rather it was me sitting on that plane than him because he was only 28."
Mr Sweeney said he was "bit hurt" to have had his worst fears confirmed on the NUFC website, after failing to get through on the emergency lines.
"I could have gone over [to Amsterdam] but my passport ran out a couple of years ago and the wife can't get away because she's terminally ill," he said.
"And are you just going to be there with people not knowing any more than they do here?
"I wish I'd been on the flight with him, we could have had a drink together."
After viewing tributes to his son at St James' Park, Mr Sweeney said: "There are some nice people out there.
"He was a very, very popular lad."
He also praised the response of Newcastle United after it was announced players would wear black armbands in upcoming games in tribute to the two fans.
"I think if there is an afterlife he would be proud," Mr Sweeney said.
"I think he would have liked to watch them for a few more years though."
John Alder's family released a statement paying tribute to him.
They said: "We would like to thank everyone for their thoughts and wishes and incredibly generous gestures.
"We are struggling to comprehend what has happened, but we are touched and moved by your kind words, acts and the knowledge that so many people saw John for who he was: a kind, courteous man who was much loved as a son, brother, uncle and fan."
Newcastle's managing director Lee Charnley described the news as "devastating".
He said: "Both men were dedicated supporters of our club and were known to thousands of fans and staff alike.
"On behalf of everyone at Newcastle United we send our deepest condolences to John and Liam's families and friends."
Alan Pardew said: "Myself and all the players are deeply shocked and saddened by this terrible news.
"We all knew how passionately John and Liam supported the team and the club.
"They were with us just earlier this week for our first pre-season friendly against Oldham and their dedication to travel all the way around the world to support us in New Zealand tells you all you need to know about the passion they had for Newcastle United."
A spokesman for Malaysia Airlines confirmed both Newcastle fans were on the passenger list for the flight.
As well as nine from the UK, there were also passengers from the Netherlands, Indonesia, Germany, Belgium, the Philippines and Canada.
Newcastle United said Mr Alder was a lifelong supporter and a familiar sight in the stands for almost half a century, having barely missed a single game in that time.
His neighbour, Margaret Bambra, 66, said she had known him for about 40 years.
She said: "He was a lovely guy, never bothering anyone. He went to every game, he never missed a match. He was Newcastle mad."
Fans' website NUFC.com said: "We're desperately sad to report that they were John Alder and Liam Sweeney.
"Both were well known to away followers, particularly John, whose usual match-day attire led to the affectionate nickname of 'The Undertaker'.
"Both were in attendance at Oldham on Tuesday, doing what they loved. Our thoughts are with their friends, families and the many fans who knew them by sight."
Fanzine The Mag, said: "It is a tragedy though for all Newcastle fans and we hope everybody, whether they knew them or not, gives a minute to think about their loss, as well as all of those other people who tragically lost their lives on that flight."
Malaysian Prime Minister Najib Razak said "no stone will be left unturned" in the investigation into what happened.
He said: "Today, regardless of nationality, we are all united in grief."