Malaysia plane crash: Charities chosen for £23k tribute cash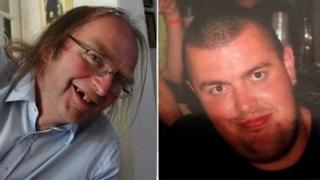 More than £23,000, raised by football fans in memory of two Newcastle supporters who died in a plane crash in Ukraine, will go to cancer charities.
Sunderland AFC fans set up an online page to raise £100 for a floral tribute to John Alder and Liam Sweeney.
But donations quickly snowballed, with the total now in the thousands.
Newcastle manager Alan Pardew hailed the fundraising and said their pre-season games and new season would be dedicated to the two men.
Mr Alder, 63 and Mr Sweeney, 28, were travelling to New Zealand to see Newcastle play in a pre-season tour, when their Malaysia Airlines flight came down on Thursday.
Donations pour into funds
Sunderland fan Gary Ferguson started gathering donations on a fundraising website late on Friday after seeing tributes being posted on a Sunderland fans' message board.
His initial intention was for people to "put a fiver in each" in the hope of getting enough for the floral tribute to take to their rival's ground at St James' Park.
Mr Ferguson said that after speaking to the families two charities had been identified which would probably get "a large share" of the money, one of which Mr Alder supported and the other of which Mr Sweeney supported.
One is the Sir Bobby Robson Foundation, a locally based cancer research charity set up by the former Newcastle manager.
The other charity is Marie Curie Cancer Care, which has a hospice in Newcastle.
Another fund to buy a flag to take to all Newcastle's away games in memory of the pair and also for flowers and funeral costs has raised more than £6,000.
Speaking at a press conference ahead of their two warm-up games in New Zealand, Alan Pardew said as well as wearing black armbands and holding a minute's silence, the manner of their play would be a tribute to the two fans and he would be fielding a strong side.
He said honouring them meant a lot because "their tragic loss has hurt the group".
'Fans so important'
"None of us would be sitting here without the fans", he said.
"Owners and managers come and go, as do players, but the fans are always there.
"And these two guys in particular, to go to the lengths that they did to get out here, has brought home just how important supporters are to us.
"Sometimes when you lose lives in that manner it puts into context what we do.
"This season we want to give their families something to remember them by, by having a successful season."
He spoke of his admiration for the Sunderland fans for their tributes and fundraising.
He said: "I am very proud of Sunderland Football Club for the way they have conducted themselves and I want to thank them."
Mr Alder's niece, Karen Robbins, got in touch with Newcastle United to thank fans for their support.
In a statement, the family said: "We would like to thank everyone for their thoughts and wishes and incredibly generous gestures, particularly those who have been able to share personal memories of John.
"We are struggling to comprehend what has happened but we are touched and moved by your kind words, acts and the knowledge that so many people saw John for who he was, a kind, courteous man who was much loved as a son, brother, uncle and fan."