Seaham Harbour's £3.4m pier restoration set to start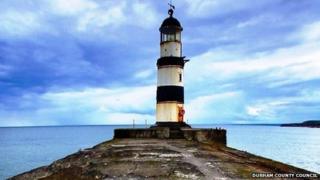 A £3.4m project to restore Seaham's Victorian North Pier to protect surrounding properties from future flooding and erosion is due to start.
The harbour's North Pier has breached three times since it was built more than 100 years ago and could be at risk during heavy storms.
Durham County Council said the work would "safeguard" about 110 homes and 30 businesses from risk of flooding.
The council said it was a "vital part" in protecting the town's future.
The plans are also expected to help prevent coastal deterioration by stopping storm waves penetrating the harbour.
The council said it would try to create as little disruption as possible around the marina while the work is carried out.
It is a joint project between Durham County Council, the Environment Agency and port operators the Victoria Group.
Work gets under way from Monday and is expected to be complete by November 2015.