First flamingo egg at Washington Wetland Centre in eight years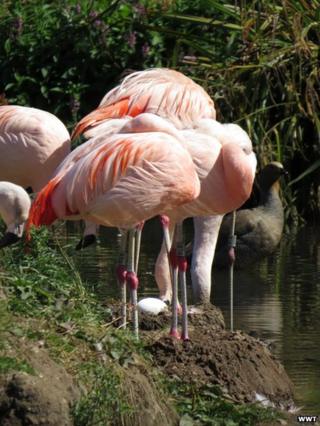 The first flamingo egg in eight years has been laid at a wildlife centre in Wearside, according to the charity that runs it.
Staff at the Washington Wetland Centre spotted the egg on Monday in one of the bird's nests.
It follows a project in which Chilean flamingo eggs were brought into the centre and humans reared the chicks.
They were then integrated into the existing flock in the hope it would encourage natural breeding.
The Wildfowl and Wetland Trust (WWT), which runs the centre, said the last successful breeding took place there in 2006.
Workers have swapped the new egg for a clay dummy while they take care of the real one.
Older bird
Staff will find out whether the egg is fertile by shining a torch on it to see if an embryo is present - a method known as "candling".
If it is fertile, the egg will then be incubated artificially until it is almost ready to hatch, which the WWT said would offer the chick the best chance of survival.
The egg would then be returned to the nest shortly before hatching, when the chick would be due to start calling out from inside as part of a bonding ritual with its parents.
The flamingo that laid the egg is a 33-year-old, while the father is just 11, the WWT said.
The centre manager Gill Pipes said: "Conservation is not black and white and whilst an egg isn't guaranteed to lead to a successful hatch or survival, this is a fantastic and hard-won achievement.
"It has been made possible by the amazing work of our dedicated staff and volunteers."