Robson Green launches hydro power scheme at Cragside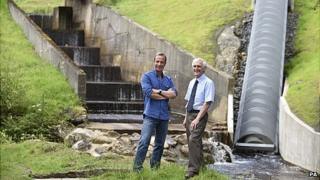 A 19th Century Northumberland stately home, which was the first in the world to be lit using hydroelectricity, can once again harness the power of water.
Cragside was built in 1863 by Lord Armstrong, who used lakes on the estate to generate electricity.
A new 17-metre (56ft) Archimedes screw will use water to produce enough energy to light the 350 bulbs in the National Trust property.
It was turned on by actor Robson Green at a launch ceremony.
Andrew Sawyer, property curator at Cragside, said: "It is a very visual demonstration of the way hydro power works, an almost sculptural sight in the landscape.
"Lord Armstrong was an exceptional man with an ingenious mind and the prospect of bringing his vision for Cragside into the 21st Century is a dream come true."
Water from Tumbleton Lake, the lowest of five on the Cragside estate, will feed through the turbine and into the burn below.
As water passes through the spiral blades it causes the screw to turn, thereby harnessing the energy of falling water. The energy is then converted into electricity using a generator.
The Grade I listed building reopened in 2007 after a total refurbishment and is surrounded by one of Europe's largest rock gardens.