MH17 victim Liam Sweeney formally named to family 'relief'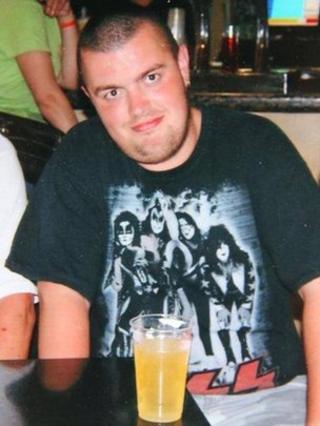 A Newcastle United fan who died on Malaysia Airlines flight MH17 has been formally identified.
Liam Sweeney's family said they were "happy and relieved" after the announcement.
Mr Sweeney was one of almost 300 people killed when the Amsterdam-to-Kuala Lumpur plane crashed in eastern Ukraine, on 17 July.
"We hope that we can now move forward," his parents Barry and Angela said in a statement.
"Our thoughts are with John Alder's family and the families of the other 296 victims."
Pro-Russian rebels have been blamed for shooting down the plane.
Mr Sweeney, 28, had been travelling with fellow Newcastle United supporter Mr Alder, 63, to watch the club play pre-season matches in New Zealand.
They were among 10 Britons killed on the plane.
Mr Sweeney's father Barry, said it was good to know that his son was "coming home" and the family would now think about planning Liam's funeral.
He said: "We'll do everything right for Liam, for us, for his friends, in fact, for everybody around the world that has got to know these two Geordie lads that went to watch a football club and didn't see it."
Barry and Angela Sweeney were among victims' relatives who met PM David Cameron in Downing Street last week.
Afterwards they said they were "angry and frustrated" at not knowing what had happened to their son's body.
Barry Sweeney had earlier travelled to Eindhoven Airport in the Netherlands to see the first coffins containing victims' bodies arrive in the country in the hope Liam would be among them.
News of the deaths of the two Newcastle United fans led to floral tributes being laid outside St James' Park and a memorial service being held in their honour.
Mr Sweeney described the response as "absolutely incredible, absolutely amazing".