Crushed ice used to clean water mains in Newcastle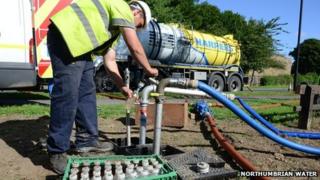 Crushed ice is being used to clean underground pipes providing drinking water to parts of Tyneside.
The technique - called ice pigging - will take seven weeks and involves ice forced through pipes to scrape off sediment built up over decades.
It is part of Northumbrian Water's £66m four-year works to improve mains in and around Newcastle.
The company claims the technology cuts down the need for disruptive road closures and service interruptions.
A spokesman said: "Ice pigging involves isolating a section of pipe by turning off valves at each end.
"Water is then emptied to make room for slushy ice to be injected. Valves are re-opened and, as the water flows, pressure compacts the ice and it scrapes the pipe clean.
"The ice is then flushed from the main and the water is sampled before being put back into supply.
"Some ice pigging can be done during the night, which significantly reduces all forms of disruption to homes, commuters and businesses."