Flight MH17 crash: Offensive Twitter post case dropped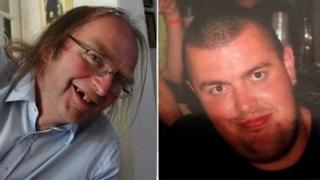 The case against a man accused of posting an offensive message on Twitter relating to two Newcastle fans who died on flight MH17 has been dropped.
Mitchell Chapman, 18, of Pegwood Road, Sunderland, was due before magistrates charged with making a malicious communication.
The Crown Prosecution Service (CPS) has now decided to discontinue the case.
It said that although offensive, the comments did not meet the required threshold for a criminal prosecution.
Liam Sweeney, 28, and 63-year-old John Alder, were among the 298 people who died when the Malaysia Airlines flight came down over eastern Ukraine on 17 July.
The pair were travelling to New Zealand to watch Newcastle United play pre-season matches.
'Proceedings discontinued'
The CPS said in a statement: "While there is no doubt the comments will have been deeply upsetting to the families and simply offensive, the threshold for proceeding with a criminal charge is very high.
"The question that prosecutors have to answer in this case is not whether the message was offensive, but whether it was so grossly offensive that criminal charges could be brought.
"In this case, the comments made do not meet the required threshold for a criminal prosecution and the CPS has advised the families and the police that the proceedings against Mr Chapman are to be discontinued."
Northumbria Police said in a statement: "An investigation took place in relation to this case and the decision to charge was made.
"Following a review of the evidence by the CPS, a decision was made not to proceed with the prosecution."