MH17 crash: Colleagues pay tribute to Liam Sweeney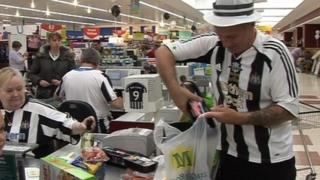 Thousands of supermarket staff have come to work in football shirts in tribute to a colleague killed when Malaysia Airlines flight MH17 crashed.
Newcastle United fans Liam Sweeney, 28, and, John Alder, 63, were among the 298 who died in Ukraine last month.
Workers at 18 Morrisons stores, including Mr Sweeney's Killingworth branch, raised money for the Sir Bobby Robson Foundation and Marie Curie.
Liam's father Barry Sweeney said it was "incredible".
"I've found out everybody loved Liam," he said.
"It's absolutely unbelievable what's happening today. Liam will be looking down thinking, 'How have I caused this stir?'"