Fears torrential rain 'will open up' 200ft sinkhole near Cowshill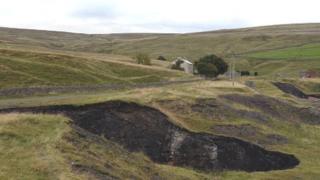 A landowner fears a massive 200ft (60m) deep sinkhole which has opened up near his home will get bigger.
Torrential downpours are forecast later in County Durham and John Hensby, 71, said he had been warned the 110ft (35m) wide hole would grow.
It opened up about 260ft (80m) from Mr Henby's house in Cowshill near Bishop Auckland, above an old lead mine.
Durham County Council has closed a nearby footpath. Mr Henby said he was worried about sheep falling in.
The retired salesman lives in a stone two-storey house built in the 1870s and owns 10 acres of former mining land.
His partner Sam Hillyard, 39, spotted the sink-hole on Thursday while she was out shooting rabbits.
Mr Hensby, who has lived in the former mine manager's house for six years, said: "We heard enormous rumblings hours before it opened up and then it appeared.
"I'm not worried about my house as it is on stable land - not actually on a mine.
'Sheep swallowed up'
"We don't think our lives are in mortal danger or anything like that, but all the local farmers have been warned as we don't want any sheep wandering over and getting swallowed up."
Mr Hensby believes the sinkhole is due to 19th Century iron or lead mining, though he has been unable to find evidence of a shaft that may have collapsed.
He added: "The hole is stable at the moment, but we know there is torrential rain coming and the hole will get bigger - which is a real worry.
"Long-term what will happen to a hole so big - we will just have to wait and see."