Rip tide warning as four people swept out to sea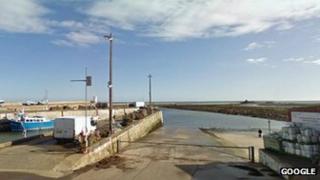 Two adults and two girls have been rescued after being swept out to sea off the coast of Northumberland.
Lifeboats from Seahouses were sent out at about 16:50 BST on Sunday to reports of people struggling in the water.
Two teenage girls were swept out before a man tried to rescue them and got into difficulty, the RNLI said. A woman in a kayak then tried to help, but also had to be rescued.
The charity said they were on holiday from Sheffield.
They were treated for shock, cold and water intake but not taken to hospital.
It came four days after five people were rescued in the same place in similar circumstances.
On both occasions, people were caught by a localised current and swept into deeper, colder water, the RNLI said.
Seahouses lifeboat operations manager Ian Clayton said: "It is disturbing that twice within a few days, people have found themselves in serious difficulty, having been carried out by rip tides.
"The incident further underlines the RNLI's current safety campaign to "Respect the Water"."