Cowshill sinkhole visitors 'putting themselves at risk'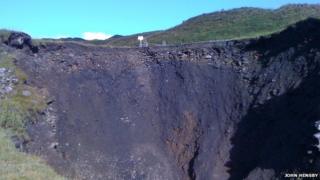 Sightseers visiting a giant sinkhole in County Durham are putting themselves in danger, a landowner has warned.
John Hensby said people were getting too close to the edge of the 200ft (60m) deep sinkhole which has opened up near his home at Cowshill.
The hole opened up about 260ft (80m) from his house last week above an old lead mine near Bishop Auckland.
Mr Hensby said even though the ground looked stable it was not and cracks were appearing all the time.
He said: "If you fall in you won't be able to get out, and it would be impossible to get close enough to rescue you."
'House safe'
Durham County Council has closed a nearby footpath.
Mr Hensby previously said he was worried about sheep falling in but believes his two-storey home built in the 1870s should be safe.
He said: "This is the old mine manager's house. One hopes he was not stupid enough to mine under his own home, unless his miners did not like him of course."
Mr Hensby's partner Sam Hillyard, 39, spotted the sinkhole on Thursday.
Mr Hensby, who has lived in the former mine manager's house for six years, said: "We heard enormous rumblings hours before it opened up and then it appeared.
"It seemed to stabilise but now there are large cracks appearing and more is falling into the hole.
"Experts say one heavy rainfall could make it a lot worse."
Old mine workings
Work is now under way to determine where responsibility for the sinkhole lies.
Mr Hensby said: "We are looking to determine who holds the extraction rights and who is responsible for the issue. I sincerely hope it's not us.
"It would be impossible to do anything about the hole for a long time as the land around it is so unstable."