Campaigners oppose McDonald's near Kenton School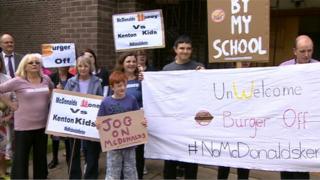 Campaigners fighting to stop a McDonald's opening near Newcastle's biggest secondary school have held a public meeting.
The fast food company has lodged a planning application with Newcastle City Council to open a drive-through close to Kenton School.
Opponents fear it could lead to rising obesity levels among youngsters, litter and road safety issues.
The council's planning committee is due to make its decision on Friday.
Planning officers have recommended the scheme be approved.
The two-storey restaurant would be on the site which was home to the Crofter's Lodge pub.
'Magnet for kids'
Resident and campaigner Siobhan O'Neil said: "We love our neighbourhood. It doesn't need a McDonald's.
"It's within two minutes of the biggest school in Newcastle. We have surveyed local pupils and they've told us they would go on their way into school and on their way home from school, and some of them will try and go at lunchtime.
"McDonald's will be a magnet for local schoolkids. We are heading for a generation of children who have a diet based on junk food and sugary drinks. That's disastrous."
The campaigners staged the meeting at the Church of the Ascension in Kenton earlier.
Last month almost 450 names were collected on an e-petition to the Department for Communities and Local Government.
When the plans for the restaurant were made public earlier this year, McDonald's said it wanted to "reassure local residents that our main priority is to be a good neighbour and we are happy to work with any member of the local community who has concerns about the impact of our business".