May Stokoe death: 'Missed chances' to identify husband's risk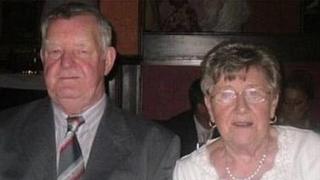 The death of a woman who was stabbed by her husband could have been prevented if missed opportunities had been identified, a review has found.
May Stokoe, 79, was attacked by her husband of 56 years, James, also 79, in a bedroom at their Sunderland home in May 2013. He then killed himself.
Before their deaths, Mr Stokoe spoke about hurting or killing his wife.
However, he was "at no point" classed as a "high risk" to others, a domestic homicide review has found.
At an inquest in January it was concluded Mr Stokoe killed himself and his wife was unlawfully killed.
The domestic homicide review, which was carried out by the Safer Sunderland Partnership and refers to the couple as Mr Y and Mrs Y, covers the year leading up to their deaths.
The review found Mr Stokoe had a history of depression and had also been diagnosed with cancer.
'Virtually invisible'
In March 2013, Mr Stokoe was found by his daughter-in-law during what appeared to be a suicide attempt. As a result, he had regular visits with Northumberland, Tyne and Wear NHS Foundation Trust's (NTW) Mental Health Crisis Team.
One of the "key concerns" identified by the review was that Mrs Stokoe remained "virtually invisible" despite her presence during much of her husband's contact with NTW and "little was known" about her experiences or views throughout the period.
It was also found that at "no stage" was she considered as a potential victim of abuse or violence and as a result remained outside of all subsequent assessments and decision making.
Mrs Stokoe had also disclosed two days before their deaths that her husband had accused her of having affairs and of spending his money.
The review found that "at no point" was Mr Stokoe assessed by NTW as presenting a high risk to others, namely Mrs Stokoe, and as such no action was taken to directly manage this.
However, it was noted that staff had not had "specific training" in relation to domestic abuse, therefore they could not be "reasonably expected" to have such knowledge.
The review panel concluded that although Mrs Stokoe's death was not predictable, it could have been prevented in light of the missed opportunities.
Chair of the review, Michelle Meldrum, said: "This was a tragic case and deeply distressing for all those involved. I would like to express my sincere condolences to their family.
"We are determined to learn from this and have already taken action to address each and every one of the recommendations it makes."
The panel recommended 10 recommendations as a result of the review, including mandatory domestic violence training for front-line staff.