Detained Donald Duckling cargo ship sold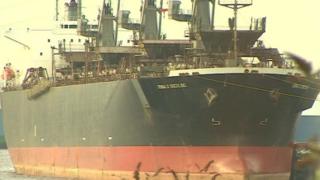 A cargo ship detained on the River Tyne for nearly 10 months has been sold.
The Donald Duckling was held in North Shields in November after it failed a safety inspection and some of the crew were stranded over Christmas.
The ship's owner, Taiwan-based TMT, applied for bankruptcy protection in the US. The vessel has now been sold in a court-administered sale.
The Maritime and Coastguard Agency (MCA) said the detention order would remain until improvements were made.
The 200m-long ship arrived on Tyneside to load a cargo of scrap metal bound for Korea, but TMT did not carry out the repairs necessary to enable it to leave.
Its 22 crew members, mainly from the Philippines, were stranded on Tyneside over the Christmas period with little food. They returned home later.
'Mechanical issues'
The ship was later towed across the river to South Shields. In January it emerged it had racked up debts totalling tens of thousands of pounds. including fuel and berthing fees, as well as crew wages.
The repair bill was estimated to run into hundreds of thousands of pounds.
An HM Courts and Tribunals Service spokesman said: "It has been sold pursuant to the order of the court and is now the responsibility of the new owners."
There were no details about how much the ship had been sold for or who had bought it.
A Maritime and Coastguard Agency spokesman said: "The detention was served for a number of reasons, including mechanical and safety issues.
"This notice, which prevents the vessel from sailing, will remain in place until the necessary improvements are carried out.
"If the ship has a new owner, they will need to apply for and pass a re-inspection before Donald Duckling can sail again."