Falling traffic lights injure woman in Gateshead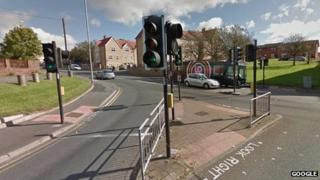 A pedestrian was badly injured when she was hit by some falling traffic lights which were struck by a lorry in Gateshead.
The woman was standing next to the lights when they were knocked over as the lorry came off the road on Bensham Road on Wednesday evening, police said.
The woman was taken to hospital where she is said to be in a "serious condition".
Anyone with any information is asked to contact Northumbria Police.