Northumberland A1 upgrade 'would cost £14.2m a mile'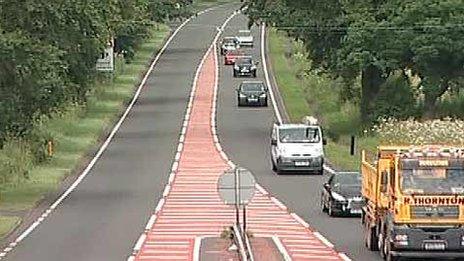 The cost of upgrading the A1 to a dual carriageway between Newcastle and Scotland would be more than £14m a mile, figures obtained by the BBC show.
In Northumberland, 42 miles are still single carriageway, so dualling the whole stretch would bring the total cost to just under £600m.
The Government said it would make a decision by the end of the year.
The figures regarding the costs come from an unreleased study commissioned by Northumberland County Council.
Council leader, Labour's Councillor Grant Davey, said that a major highway such as the A1 should be made dual carriageway.
"This is essential," he said.
"It's the thing that will drive the economy of the North East."
Alan Ferguson, owner of the almost-100-year-old business Ferguson's Transport believes the road in its current state is not fit for purpose.
He said: "We avoid going north wherever possible because of the road network.
"We tend to try and subcontract it to somebody else or not do it, that's how bad it is. The road is dreadful."
One major argument for dual carriageways is safety.
Council figures show in the stretch between Morpeth and Berwick there were 14 fatalities between 2006 and 2010.
The BBC has established there have been at least four others since.
One of those was 32-year-old Alexander Gibson, from Berwick, who died in a collision in 2011.
Since then his father - also called Alexander - has been campaigning to have the road dualled.
Mr Gibson said: "If the road was dualled and had a central barrier, he would have just drifted and banged against the barrier and no other car would have been involved.
"They reckon he would have had about a 90% chance of being alive today."
During a recent visit to the region, roads minister John Hayes said: "I'll make a decision on what we can do before the end of this year."
Related Internet Links
The BBC is not responsible for the content of external sites.