Woman raped in Newcastle city centre bar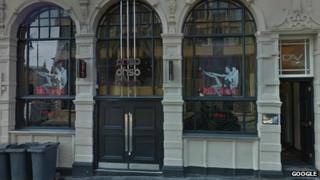 An 18-year-old woman has been raped by a man in a busy Newcastle city centre bar, police have said.
The rape took place at the Ohso bar in the city's Groat Market and police were called at 01:45 BST.
The man was described as about 19 years old, slim and having blond hair that is short at the sides and long on top.
Police said he had a southern accent and was wearing a grey or light green t-shirt, blue jeans and a number of different-coloured wristbands.
Det Insp Helen Anderson said: "We want to speak to anyone who was in Ohso last night and who might have seen anything suspicious.
"The bar was busy with lots of people inside. We're checking CCTV footage to try and identify the suspect and to establish if he was part of a larger group who were in the bar."