Train staff 'missed' trapped woman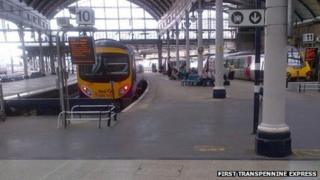 A train conductor failed to carry out proper safety checks leading up to a woman being dragged along a platform in Newcastle, a report has concluded.
Her hand became trapped in the doors of a First TransPennine Express train she was trying to board last June.
She suffered severe bruising when the train travelled about 60ft (20 metres), reaching a speed of about 5mph.
A report concluded the conductor failed to carry out the required visual checks prior to the train moving off.
The incident happened on 5 June last year and involved a train to Manchester Airport which was departing from platform 10 at Newcastle Central Station.
Conductor disciplined
The Rail Accident Investigation Branch (RAIB) report said the doors of the train were, in certain circumstances, able to trap a wrist and lock without the door obstruction sensing system detecting it.
Once the doors were detected as locked, the train was still able to move.
Ten years ago the parties involved in the train's design and its approval for service were aware of this hazard but the risk associated with it was not formally documented or assessed, the report said.
The report said the conductor did not notice the trapped woman because he failed to carry out a visual check of the outside of the train as he should have done.
He also failed to properly report the incident and was subsequently disciplined by First TransPennine Express.
Giles Hayley, from Siemens UK who manufactured the train, said the company was now considering "how we can improve the process for recording and assessing such hazards even more effectively... although the safety enhancements of the Class 185 passenger door design represented best practice at the time".
The RAIB made six safety recommendations, including a review of future train door design.