Durham County Council care home 'occupied' by resident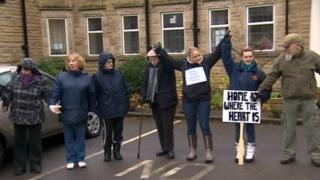 The last resident in a publicly run care home in County Durham is occupying his room in protest at the home's impending closure.
All other residents have left Newtown House in Stanhope and Don Robson, 83, was supposed to leave on Thursday.
Durham County Council approved the proposal to close its five remaining care homes in April, saying they were not value for money at a time of cuts.
Activists said the council was avoiding responsibility for social care.
But Lesley Jeavons, the council's head of adult care, said: "While we have the greatest of empathy with the concerns raised, it is simply not possible in the current financial environment to provide in-house residential care."
Mr Robson, along with his friends, family and supporters, rallied outside the care home earlier in protest.
The retired head teacher, who is occupying his room along with his daughter-in-law Michelle Robson, said being "given the boot" was "beyond the pale".
The pair intend to occupy the room until Mr Robson's 84th birthday next Wednesday, after which he will move in with Mrs Robson and his son Steve, who live nine miles away in Ireshopeburn.
Mrs Robson said Newtown House was the only care home in Weardale and other former residents had had to move out of the area altogether.
"Our lives have been turned upside down," said Mr Robson, who has lived there for two years.
Paul Simpson, from the Durham People's Assembly, which has protested against the closure of the last five council care homes, said he "fully supported" Mr Robson's action.
"This council has been determined to rid itself of all responsibility for providing social care to older people for a long time," he said.