Druridge Bay swimmers bare all for charity cash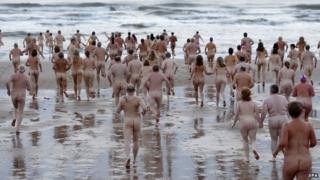 Hundreds of naked people have taken a plunge in the North Sea to raise money for charity.
The North East Skinny Dip, now in its third year, took place at sunrise at Druridge Bay in Northumberland.
About 300 people braved the cold, but failed to break the world record of 744 participants at a New Zealand beach.
The profits from the event are split between The National Trust (which owns the section of beach) and the mental health charity MIND.
Mark Hurrell, one of the organisers, described it as a success, with numbers up on the previous year.
He said: "It was cold with quite a swell with big breakers, so there was much body surfing through the waves rather than swimming.
"However, some went back in for a proper swim, so it was quite a morning."