American bulldog attack: Victim's head dragged along in dogs' mouths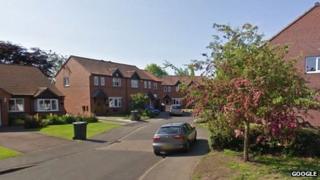 Bystanders who tried to beat off two dogs when they turned on their owner have told how he was dragged along with his head in their mouths.
Desperate witnesses used spades and golf clubs to try and stop the American bulldogs during the attack in Priors Grange, High Pittington, County Durham.
Drivers even tried to ram the dogs with their cars, witnesses said.
The 47-year-old victim suffered serious but non-life threatening injuries during the attack on Sunday evening.
Witness Alison Metcalf said he was thrown around "like a rag doll" and a child would not have survived the attack.
One of the dogs was caught at the scene and shot by police officers. The second dog was taken to kennels.
'Wagging tails'
Ms Metcalf said: "They were ripping his clothes off him, biting him, they didn't appear to be aggressive they were wagging their tails and they didn't turn on anyone else.
"He had an horrendous arm injury, some facial injuries and I believe a leg injury. He was being ripped to bits.
"All the men came out with spades and golf clubs trying to get the dogs off.
"People even got their cars out and tried to ram the dogs with cars, but they didn't touch them.
"He was semi-conscious, he was obviously in a lot of pain, his arm was the worst injury I've ever seen.
"Quite frankly a smaller person or child would not have survived it."
'Decision to help'
Other witnesses said the dogs gripped the man's head in their mouths and "almost ripped off" his arm.
Ms Metcalf said the attack happened outside her home at about 21:10 BST.
She said: "I thought I heard somebody shout 'help me' but I couldn't be certain, then I heard my husband come flying in, he threw our own dog through the front door, and said 'there's a man on the ground'".
She believes fireworks may have "spooked" the bulldogs.
Insp Dave Coxon, of Durham Police praised the public's response.
He said: "People looked out of the window, and made that split-second, conscious decision they were prepared to do something is really heart-warming.
"It's in the best traditions of the people of County Durham."