American bulldog attack: Breeder victim's kennel's visited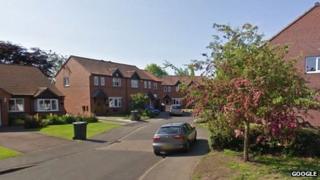 Police have visited the kennels of a dog breeder who was savagely mauled in the street by two of his own American bulldogs.
Officers visited the home of 47-year-old Stephen Potts to check the condition of his animals earlier.
But a Northumbria Police spokesman said they were being properly cared for and none were classed as dangerous dogs.
The victim is still in hospital after he was savaged in Priors Grange, High Pittington, County Durham, on Sunday.
Bystanders beat the dogs with clubs and spades and some drivers even rammed the animals with their cars.
'Not banned breeds'
Mr Potts suffered serious but non-life threatening injuries with witnesses describing how it looked like his "arm was ripped off".
Witness Alison Metcalf said he was thrown around "like a rag doll" and a child would not have survived the attack.
One of the dogs was caught at the scene and shot by police officers. The second dog was taken to kennels.
A police spokesman said: "We are aware that the injured man is also the owner of a number of other dogs.
"These dogs live at his property in Low Pittington.
"An assessment carried out by officers from the force's dog support unit has concluded the remaining dogs are being cared for appropriately and are not considered banned breeds under the Dangerous Dogs Act."
'Gripped man's head'
Ms Metcalf said: "They were ripping his clothes off him, biting him, they didn't appear to be aggressive - they were wagging their tails and they didn't turn on anyone else.
"He had an horrendous arm injury, some facial injuries and I believe a leg injury. He was being ripped to bits.
"All the men came out with spades and golf clubs trying to get the dogs off.
"People even got their cars out and tried to ram the dogs with cars, but they didn't touch them."
Other witnesses said the dogs gripped Mr Potts' head in their mouths and "almost ripped off" his arm.