Failings in run-up to death of Shakespeare folio dealer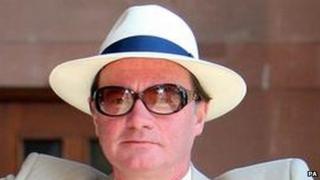 A prison has been criticised for the care of a man who took his own life after being jailed for handling a stolen edition of Shakespeare's first folio.
Raymond Scott, 55, of County Durham, was found dead at what is now HMP Northumberland in March 2012.
A prison watchdog report identified deficiencies in suicide monitoring and said support was not integrated.
The Prison Service said it would consider the report's findings.
Scott was jailed for eight years in 2010 for handling a stolen copy of Shakespeare's first folio. He was cleared of stealing the 1623 work, which was taken from a display cabinet at Durham University in 1998.
An inquest last year into his death, from neck wounds, heard he had left a note saying he intended to kill himself and had razor blades in his hand.
Monitoring deficiencies
The report by the Prisons and Probation Ombudsman found during 2010 and much of 2011 he appeared to settle well at the prison.
But in early 2012 several members of prison staff noticed a decline. The report said that coincided with the temporary suspension of his anti-depressant medication on medical advice.
The report said Scott became preoccupied with the time he had left to serve in prison and was worried about an upcoming appeal against his conviction and sentence.
He was subject to suicide and self-harm monitoring procedures and received support from staff including a mental health nurse and prison chaplains.
Consider findings
But the report found a number of deficiencies in the monitoring and reviews of his risk did not involve all the relevant people. It was also concerned a decision was made to stop monitoring him without clear evidence he was no longer at risk.
There were also weaknesses in the treatment for his depression.
The report made a number of recommendations based on the areas of concern.
A Prison Service spokesman said: "We are committed to reducing the numbers of self-inflicted deaths in custody and will consider the findings of the inquest and the Prisons and Probation Ombudsman's investigation to see what lessons can be learned.
"We have a high proportion of people with mental health issues in the prison population and, as is the case in society, the reasons behind any suicide are complex and individual."