River Tyne kayak deaths: Trio 'faced impossible situation'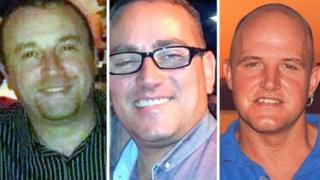 Three members of the same family drowned after their kayaks were swept over a weir on the River Tyne in Northumberland, a coroner has heard.
Brothers Darren Thorpe, 41, and Mark Thorpe, 39, and their cousin Gavin Bradley, 36, were paddling near Hexham in May when they got into difficulties.
An inquest in North Shields heard that on the day of the tragedy the power of the water was "phenomenal".
Coroner Eric Armstrong recorded a verdict of accidental death.
The hearing was told that warning signs told people to leave the water upstream of a 200ft-wide weir at Riding Mill, but the three men's bodies were found downstream of the feature, following a major search.
Swirling current
North Tyneside and South Northumberland coroner Mr Armstrong heard the men were not risk-takers and had used common sense on previous trips along the river.
But the water level was higher than usual, and one likely scenario was that the men were swept over the weir before they knew it.
Canoe and white-water expert Robert Cunningham told the hearing that 30 tonnes of water per second were flowing over the weir at the probable time the men were passing through.
Concrete blocks on the other side of the weir created a back flow which the men could not escape once they came off their sit-on kayaks.
Mr Cunningham said: "It was an absolutely impossible situation to be in a kayak."
The buoyancy aids the men wore could not save them from the swirling, boiling current, he added.
Earlier, the inquest was told the trio were "relatively inexperienced", had just taken up the sport and were not members of any recognised club.
'Decent men'
However, Mr Armstrong said: "I'm perfectly satisfied there was no bravado here.
"I'm sure, in their mind, they were out for a day of fun and no more than that."
Following the ruling, the widows of the three men released a joint statement, thanking those involved in the search operation and paying tribute to their "amazing husbands".
The statement said: "Our lads would never have knowingly put themselves in danger.
"They were decent, hard-working family men, just wanting to enjoy the beauty and tranquillity of the countryside on a much-deserved day off work."