Seaham rabbit torturers spared prison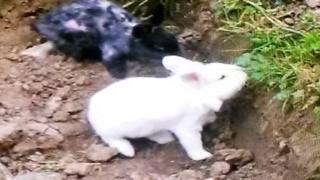 Two men who posed naked in the bath with a pet rabbit before torturing and killing it have been spared jail.
The animal was stolen from a hutch in Seaham, County Durham, and taken to a house party and abused with a picture posted on social network Instagram.
Martin Bell, 20, and Frank Hudson, 19, were part of a group which then threw her out of a window and wrung her neck.
At Peterlee Magistrates' Court, they admitted causing unnecessary suffering and were sentenced to community orders.
Two 17-year-olds, who cannot be identified for legal reasons, will be sentenced on Monday at Newton Aycliffe Magistrates' Court.
'Horrendous event'
The white lion-headed rabbit, called Percy after her owners mistakenly thought she was male, had only recently given birth to a litter of five, which died because they could not survive without their mother.
William Brown, chairman of the bench, told Bell, of Parkside Crescent, Seaham, and Hudson, of Evesham Road, Seaham: "What we have had described to us is quite a horrendous event.
"It is a rabbit - somebody's pet - and the difference between civilised people and uncivilised people is how they deal with the creatures on the earth with us.
"You did not treat nicely that rabbit."
Their offending was a joint enterprise, the court heard, although it was Bell who throw Percy out of the window and one of the youths who wrung her neck.
Any of the four could have put a stop to her suffering, Mr Brown said.
He said magistrates considered custodial sentences, but instead sentenced both men to 18-month community orders, with 18 months' supervision, and 200 hours of unpaid work each.
They were also banned from keeping animals for five years, ordered to pay £85 costs each, a victim surcharge of £60 and £50 each in compensation to the family which owned the rabbit.