Northumberland County Council to move base to Ashington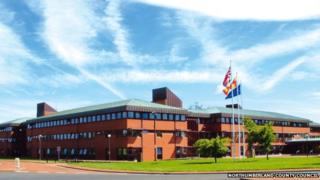 Plans to move Northumberland County Council's headquarters to a different town have been approved.
Councillors voted in favour of closing County Hall in Morpeth and setting up base in Ashington.
The council's Labour administration said the move could save more than £13m over 25 years and benefit both towns economically.
But critics have called the plan a waste of money and an attempt to move the headquarters to Labour heartlands.
The council said it would draw up a detailed plan, with the intention of making the move by 2018.
'Spurious arguments'
Labour council leader Grant Davey said: "It's simply an opportunity to be able to get a building in a town centre which is of value to that town both commercially and for the service users of that town."
The council said a report carried out by consultants had estimated the move could bring more than £50m of economic benefits each to Morpeth and Ashington.
Leader of the council's Conservative group, Peter Jackson, said: "The current building has nothing in particular wrong with it that a coat of paint wouldn't rectify."
He said Labour had come up with "spurious arguments", to justify spending up to £40m on the project, motivated by "political bias" in favour of Ashington, where the party is electorally strong.