Top award for Durham Chief Constable Mike Barton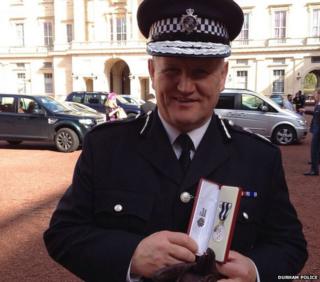 The Chief Constable of Durham Police has collected a royal honour at Buckingham Palace.
Mike Barton, an officer in Lancashire and County Durham for more than 30 years, received the Queen's Police Medal.
The medal is awarded for gallantry or distinguished service.
Mr Barton said the award also recognised all those he had worked with over the years and was a "massive vote of confidence for Durham Constabulary".
He said: "I take tremendous personal pride in being recognised by our Queen, but I am humbled because it wouldn't have happened without the fantastic support I've had from my family and colleagues."
The Chief Constable, who is well known for his tough stance on tackling crime, has served in most ranks in both uniform and detective roles starting as a beat officer on Blackpool promenade in 1980 and moving to County Durham in 2008.