Farne Islands welcome first seal pup of the year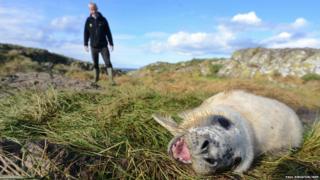 The first seal pup of the year has been born on the Farne Islands marking the start of annual count by rangers.
The islands off the Northumberland Coast are home to England's largest Atlantic grey seal colony with around 1,500 born each year.
Rangers from the National Trust will spend the next three months monitoring the success rate of the breeding seals.
The charity is running boat trips to see the seals until 31 October.