Cowshill sinkhole: Sheep pull down danger cordon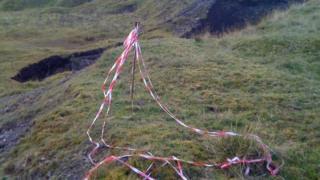 Sheep keep pulling down a safety cordon surrounding a 200ft (60m) sinkhole which is getting bigger, a landowner has warned.
The hole opened up in August above an old lead mine near Cowshill, 260ft (80m) from the home of John Hensby.
Mr Hensby said the hole was slowly growing a few metres a week and that sheep were getting too close.
Durham County Council has closed off a nearby footpath and is due to inspect the site later this month.
It is not responsible for the land which is owned by Mr Hensby.
The retired salesman lives in a stone two-storey house built in the 1870s and owns 10 acres of former mining land.
He said there was no point putting a fence around the hole and it kept growing.
He said: "As you can see, there is no fencing around it, as there is basically no point in fencing it when it is still falling in.
"We have surrounded the hole with some metal stakes linked by danger tape, but as you can see the neighbouring sheep have had their merry way with them - time and time again.
"The council rights of way officer has been most helpful and towards the end of the month he and we and a number of other people will be gathering for a site inspection and discussion of the way forward."
Mr Hensby previously said he was worried about sheep falling in but believes his home should be safe.
His partner Sam Hillyard, 39, first spotted the sinkhole in August.
Mr Hensby, who has lived in the former mine manager's house for six years, said: "Experts say one heavy rainfall could make it a lot worse."